Yay! Congrats you are 30 days away from earning that hard-earned B.F.A degree! Are you so excited to start auditioning or are you fearful of what to expect when you get to the big apple? Well let me eliminate one layer of stress; by sharing with you the audition essentials you will need to get started. Majority of these things can be costly and it all adds up (trust me). I am sure you just spent your future "home down payment" on your new headshots. But, if you gradually add these things to your "audition bag", you will have everything you need to look and feel your best in the room. Being that I've been in the NYC scene for a bit, I definitely have a lot of helpful do's and don'ts. Of course, by any means you don't need to follow EXACTLY what I did. I am simply sharing what worked for me.
1. Audition Bag
Trust me when saying this….you will NEED a larger bag if you are a dancer as well. I've tried the rolling suitcase, duffle bag and the backpack with a tote bag. I will and always look like a NYC bag lady. There is no way to carry just a small backpack. To the girls that do, GOD BLESS! I will only use my Lululemon tote. It fits everything and even has a built in curling iron holder that cools down your iron. This came in handy for me when rushing to auditions, after getting ready. It is possible to have multiple calls in one day, so it's important to have a bag that is versatile. I normally carry a little lululemon shopper to carry my lunch and water in. PACK snacks. You can be sitting at an open call for hours at a time. You can find some new
lululemon bags
on eBay and even Poshmark if this is out of your price range.
2. Laduca Taps
Well, it is true. They even make Laduca taps. Whether you like it or not, if you're a tapper you will need to invest in a pair of these babies. If you book a show like 42nd street or Singin' In The Rain you will want these beauties. Eventually down the line, it's smart to look at Miller & Bens too!
3. Heels That Won't Make You Fall / Don't Wear Your Ladcuas
Hah! Imagine falling face first onto the accompanists lap because your heels are too high? This didn't happen to me or anything…..I can't express this enough to you ladies, DRESS COMFORTABLE! You can still look chic, on trend and FABULOUS in your heels. It is important to wear a heel that is a bit thicker that will make you feel grounded and ready to take on the audition room. You don't want to be wobbling all over the place. The key is to find a heel that looks similar to a character t-strap heel. Some people wear their laduca's but I find that the dirty, dance shoes don't present yourself as well when walking in there. Actually, a fun fact: Did you know the first thing a casting director looks at is your shoes, when you walk in? A CD shared this with me during a master class and I found it very intriguing. I started to pay attention and did notice them looking at my feet. Maybe it was my cute shoes. Who knows?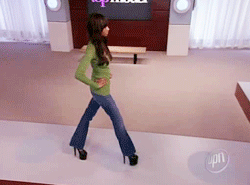 4. Black Dance Skort
This is a definite staple piece for me when attending dance calls. I can wear this with any colored leotard and a crop top. The black gives you a nice sleek, clean line. I prefer the pace setter skirt from Lululemon. There are many other brands that make cute skirts but you will see a lot of dancers wearing their lululemon skirts and jewel-toned leos. Key is to find a leotard that makes you stand out. I bought a floral leotard and CDs compliment me all the time on how fun and bubbly it is.
5. "Different Singing Call Looks"
You're probably wondering what is this woman talking about? What is a singing call look? Well…..as you become more established in your career, you will find that you tend to get called in for the same role over and over again. For instance, I played Belle in Beauty and The Beast and get called in for her ALL the time. I have a specific dress that I wear for that audition, I call it my "Belle dress". Call me crazy but it works. DRESS the part. I believe in dressing the part but in a subtle way. When going in for Belle, I am not going to wear a yellow gown or a blue dress with an apron & bow (lol I've seen it). I find ways to subtly show casting, hey this is what Meghan looks like as Belle. Recently I wore my hair in a loose side pony, twisted up top with a light blue dress. I was told, I literally dressed the part but didn't throw it in their faces. I made it to final callbacks. As you get called in for more of the same roles you can find an outfit that works. I have my gingham "Dorothy dress", a floral lace dress for Disney auditions and a black dress with floral on it for ingenue (1950s). Start setting different pieces aside for specific auditions and label it in your closet. (Y'all will thank me later). I purchase my audition clothing from all over. When I see something I know will work and I will end up wearing for multiple auditions I grab it. I got an adorable gingham dress for $7.00! You can't beat that! Buy a little at a time and soon you'll have a little audition wardrobe collection.
So if you were told spend 150$ on your ONE jeweled tone dress from Bloomingdale's, be prepared to wear that to only 50% of the calls you go on. Think about it, you can see some of the SAME casting directors, sometimes back to back days. Do you really think they want to see the same green dress and nude heels. Be different, Be bold, Be unique and most importantly Be YOU. Do you want to wear jeans, cute t – strap heels and a bright colored peplum top? ROCK IT! No one ever said that you couldn't. Embrace who you are. There's no rules on what to wear when auditioning. All I can suggest, is that if you dress to present and look put together it will make you stand out!
6. Journal
Journaling after an audition is so beneficial. It's so helpful to look back a year later and see what you sang for what casting director and who played for what call. WRITE EVERYTHING DOWN! After you hit about 100 auditions or so, they all start to blend together. You never know who you may run into during the day!
7. Knee Pads
You're probably thinking to yourself, when will I ever need these? I used them for three national tour callbacks! They were REQUIRED. Just add a pair to your audition bag!
8. Hairstyle
Figure out your signature hair. What makes me "Meghan". I have a hairstyle that makes me unique in the room and different. Establish that. You don't want your hair falling in your face during dance calls and shadowing your eyes while you belt your Eb!
9. Dance Outfits
Similar to singing, you'll find you will wear certain dance clothing to certain dance calls. I don't wear a crop top to Oklahoma and I don't wear a leotard to Flashdance. Find the appropriate basics and keep them in a little drawstring bag with you. You could change your dance audition outfit ten minutes before going in the room. It happens, sometimes those 10 buffalo wings from the night before give you that not-so 6 pack you had last week.
I have a light colored crop top and a bright one. I have a short skort and high waisted leggings. Over the next year or so, start to gather those things when you can financially swing it. It's great to be able to "dress the part" comfortably in a dance call! We don't want any loose tops or see through pants. Invest in the good ole LULU!
10. You Booked It
I hope this was helpful and all the blessings. There is of course a lot more to gather together. Trust me, I was in your shoes. I remember wearing a kimono to a kiss me kate audition for an equity theatre my first year. We've ALL been there. I know how it feels to walk into Pearl Studios and feel like Nemo in a sea of 1,000 nemos. The thing that will make you a Dory is sharing your special heart and just being you.
Feel free to reach out to me regarding audition outfit questions. I have styled several actors and they feel great in the room! Be the BEST version of YOU and share your light!
GO SHINE!
xoxo,
Meghan Nicole